François Carrier
Saxophonist⎜improviser⎜composer
I'll use the funding for
The funds raised will allow me to finance many of my musical and artistic projects. Among other things, this money will be used to hire various professionals, like a graphic designer to create a vinyl box set and a photo book. Part will be used for my living expenses.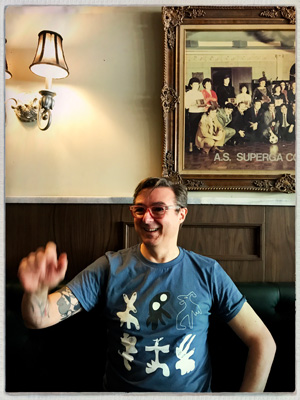 Let me introduce myself
Truly creative, deeply intuitive, visionary, absolutely eccentric, totally inhabited by the arts, always amazed and eternal optimistic, I play as I breathe.
Here is a recent review from my latest album :

"Carrier's tone is extraordinarily beautiful for a free jazz performance. Such is the imperturbable sound of a self-possessed musician."
Click here for full review → AllAboutJazz
Make your choice
10 $ – a digital download
20 $ – a CD of your choice (if available)  → Shop
50 $ – personalized cell phone ringtone
100 $ – sheet music catalog of previous compositions
150 $ – written thank you in next album to be released
250 $ – collection of 18 different CDs
500 $ – private solo concert
1 000 $ – private duet concert
1 500 $ – private trio concert
2 000 $ – become an official sponsor
Plenty of work ahead
Create a box of 5 vinyls (album 33 turns) unpublished material consisting of concerts in England, Romania, Poland, and here in Montreal with several guest musicians. Expected release: 2019
Publish a photo book of my recent travels. I want to share the images that strike me during my musical tours around the world, the visual impressions that inspire my music during concerts around the world, We find these extraordinary encounters in my 35 CDs already produced.
Composing a repertoire of twenty musical pieces that I will use during concerts with different musical ensembles, which will add a new dimension to my repertoire and diversify the scope.
Organize concert tours in Europe and Asia. Find venues, make booking, book transportation and accommodation, etc.