La soirée japonaise III
***** Japan Suite NoBusiness Records NBCD 125 François
Francois Carrier (as); Masayo Koketsu (as); Daisuke Fuwa (b); Takashi Itani (dr, perc).} December 2019.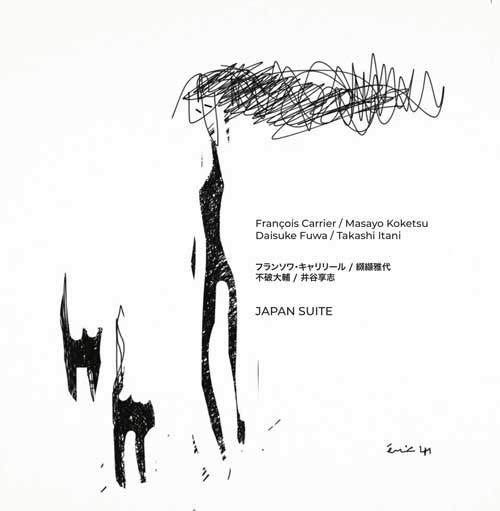 NoBusiness Record also made several fantastic releases during the Covid19 era: "Japan Suite" it a perfect example. Recorded live at Yamaneko-ken, Ogose, Saitama, Japan, in December 2019, includes 6 kind free jazz songs in Japanese style. The fantastic idea of this album is actually to confront kind free jazz phrasing of François with the truly free jazz phrasing of Masayo Koketsu. That is actually the second amazing aspect of this album: the battle of two alto saxophones. The opening monumental "Uchi-soto – Inside Outside" is a great illustration of these aspects. All of this happen t with the help of the amazing rhythm section of Daisuke Fuwa and Takashi Itani: imaginative, creative and expressive. "Kacho-fugetsu – The Beauties of Nature" is notable for the incredible load of joy of joint making music. It is a more traditional track with a "walking bass" structure, but a completely crazy conversation of altos that develops into an orgiastic free jazz explosion. "Rakuyou – Falling Leaves" is the most beautiful track of the album — a slow ballad-like track with heart breaking howls of the two saxophonists. "Ogose", which is the name of a town, starts with a wonderful bass solo and develops into another tears-squeezing ballad with an eruptive and expressive final . "Yuzu – Citron" returns to the more powerful climates in terms of saxophone phrasing, keeping, however, a moderate tempo. "Kaze to kumo ni noboru – Climb the wind and clouds" end this outstanding, but unusual record of François: it is without any doubts his music, yet very different from what were used to.
A multi-carat diamond!!!
May 19, 2020 by Maciej Lewenstein