By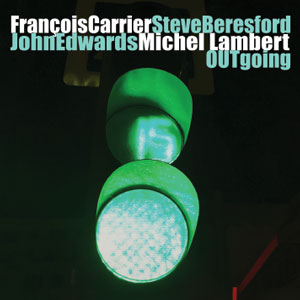 In the realm of Western music, the role of the performer has been rather circumscribed. In Classical music, the composer is king and the range of "allowed" expression rather limited.
For most of its history, jazz performers relied on tunes as the basis for their improvisations, and thus, the composer (or tunesmith) was still needed, with the best creating tunes having a memorable melodic arc or harmony, giving the player solid and recognizable support.
Modern jazz ushered in playing over changes and the player-composer, with the tunes becoming increasingly abstract and many times being vehicles for the indepth exploration of some musical idea. There is still some kind of musical ur-text, however tenous the connection to it might be at any moment in a performance.
However, there is a relatively small group of players who dispense with the ur-text altogether and get together to create music with no preparation, relying on their ears, reflexes and previous experience with the others. This is "spontaneous" (a better word than "free") jazz and it is in this realm that the creator and performer become one.
Reedman Francois Carrier is one of the leaders in this rarified field, and OUTgoing is another example (see Unknowable, which was also recorded in 2014) of what can happen when Carrier and his long-time percussionist Michel Lambert travel throughout the world and meet up with like-minded players.
Recorded at the Vortex Jazz Club in London on May 25, 2014, Carrier and Lambert met up with the extraordinary bassist John Edwards (also see this article and this performance example) for the first thirty-four minutes as a trio, to be joined later by pianist Steve Beresford (see here for a performance example) for forty-three minutes as a quartet.
The music is magnificent. Not to take anything away from Edwards, but the tracks with Beresford are extremely powerful and quite moving. Each player is quite capable of playing rapid-fire note blizzards which produce a texture more than lines, but especially impressive is how each performer can play lines (Carrier is a most interesting example of a lyrical, but free player) that have an internal structure, and hence can be picked up and passed around.
As might be expected, the music is sectional, resulting from an idea started by one player that is interpreted or extended by the others. The overall sound of the section is dependent on what everyone ends up doing and how the development progresses, intensifies and resolves. Many times the musical atmosphere is emotionally thrilling, with the group carrying the listener forward as they explore ideas in real time.
While being there would obviously be the best thing, the five tracks on OUTgoing capture a moment in time which, even in jazz terms, can never happen again, allowing the listener to be thrilled along with the very appreciative audience.
Track Listing: OUTgoing; Liverpool Station; Kingsland Road; Gillett Square; Stoke Newington.Personnel: Francois Carrier: alto saxophone, Chinese oboe; Steve Beresford: piano; John Edwards: acoustic bass; Michel Lambert: drums.
Year Released: 2017 | Record Label: FMR-Records | Style: Modern Jazz