friday, january 29, 2016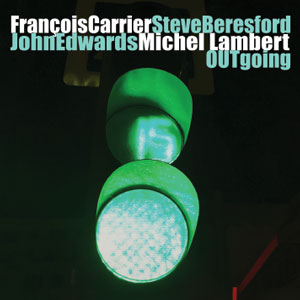 Alto saxophone colossus Francois Carrier and his integral partner in sound, drummer Michel Lambert, team up once again in a lively quartet format we first encountered here on the album Overground to the Vortex via the review posted on these pages on August 22, 2013.
The quartet of Carrier and Lambert, plus bassist John Edwards and pianist Steve Beresford are back in action on this album, recorded live at the Vortex Jazz Club, London, on May 25th, 2014. It is in every way a fitting sequel to Overground. The music as before is a product of total improvisation, with the trio sans Beresford holding forth with inventive force for two long segments and Steve joining in for the rest of the program.
It is a chemistry of good things going on throughout. Francois is in his consistently inventive, tone-rich, fire-y and noteful mode on alto as always along with the sharply acerbic, vitally astringent Chinese oboe he unveils for a dramatic contrast. He has the cogent all-over bass ideas of John Edwards to work against along with Michel Lambert's continually artful open drumming, some of his best to be heard here. Then of course Steve Beresford brings a great deal of pianistic clout once he joins the threesome.
Beresford responds well to the challenge of the immediately free totality with a noteful personal unveiling of good ideas at times horn-like and then very pianistically, including a little of the inside-the-piano soundings, all right and creative, all up to the level Carrier sets for the quartet. He clearly inspires and is inspired by the Carrier expressive thrust and the foursome charting territory in less-explored parts of the note-al, timbral universe.
As nearly always with Carrier and his bandmates, this is post-ESP school, new new thing in all its glory, a rolling, tumbling artistic responsibility to create out of total freedom, with the onus for the results placed squarely on the shoulders of each participant, with Francois leading the way with his inspired line creations.
It is a prime example of the improvisatory arts and an excellent album for that. Avant-free acolytes will find much to appreciate, as indeed will anyone committed to hearing and/or making new sounds.
Another fine melange! Highly recommended!
posted by grego applegate edwards
labels: alto masters in free jazz today, francois carrier outgoing gapplegate music review, free improvisation quartet, new free avant jazz innovations